Back to Main Blog
The Incredible Takeaways from the 2019 Medical Spa Show
Posted By Kate Harper, Thursday, February 28, 2019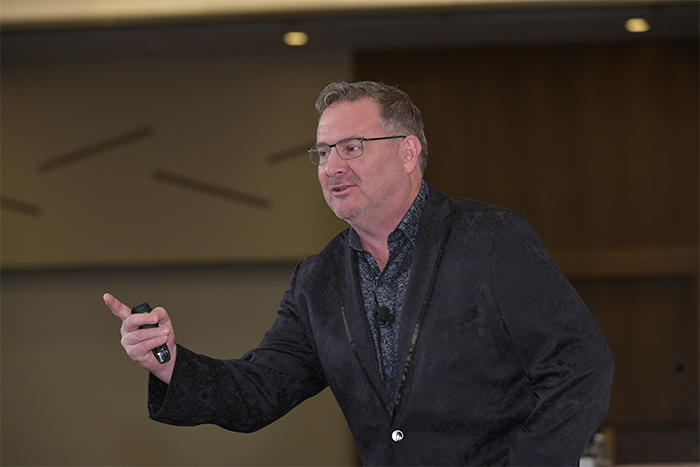 By: Tim Sawyer, President & Co-Founder, Crystal Clear Digital Marketing
If you were fortunate enough to be in Las Vegas at the Medical Spa Show, then you saw firsthand the explosion in popularity of this emerging event. With almost 1,000 attendees, a vibrant, sold-out vendor floor and the gathering of many of the leading industry experts, the 2019 Medical Spa Show was an event for the ages. As an exhibitor, sponsor, speaker and long-time friend of AmSpa, I was particularly impressed with the diversity among attendees. By that, I mean the attendance and participation of Beverly Hills plastic surgeon Dr. Sheila Nazarian, world-renowned plastic surgeon Dr. Jay Burns as well as many other surgeons, dermatologists, anti-aging doctors and entrepreneurial-minded business folks looking to find their way into the fast-growing aesthetic market. Clearly, this was more than a gathering of newly-formed med spa owners, although there were many. This was the widespread recognition and cultural acceptance of the proliferation of non-invasive technology and treatments to not only treat but also prevent the effects of aging across all age groups. It was great to see this evolution on full display, and I was grateful to be a part of it. From my perspective, there were some important takeaways that will have a significant impact on the industry in 2019 and beyond.
One – why would a plastic surgeon attend a medical spa event? Isn't that a conflict?
Absolutely not! Historically, there has been some healthy tension between med spa owners and the surgeons who have dominated this market for decades. Now, however, we see that many of these surgeons/doctors have either incorporated non-invasive treatments into their practice, or more often than not, they are opening up standalone med spas as a complement to their existing practice. This trend will continue as better, cheaper devices can get a similar result without the need for costly and painful surgery. What I discovered (the big takeaway) from sitting on the panel with Dr. Nazarian and Dr. Burns was not resistance to the inclusion and growth of the med spa market, but more of a concern related to the lack of uniform protocols and governance in the med spa community. This is a real issue. Med spa owners and operators should share their concerns because non-compliant facilities can cause real problems for EVERYONE, not the least of which would include unnecessary and expensive regulations. The biggest opportunity to continue the growth trajectory is self-policing and adherence to accepted best practices. Net result, well-run, compliant med spas will lead to increased collaboration and support of surgeons and doctors nationwide.
Two – EVERYBODY is trying to solve the social media puzzle. At the 2019 MSS, there were many sessions and panel discussions speaking to this complicated issue. While there were some obvious well-established best practices shared for popular platforms such as Instagram, Facebook, Snapchat, etc., the big takeaway for me from listening to the experts is there is no one-size-fits-all solution. Every practice is unique with varying degrees of resources and different business goals. This is where YOUR discussion with social media needs to start. What are YOUR business goals related to your social media efforts? In other words, what is the problem you are trying to solve? Is it exposure, education, local fame OR how to create more paying patients for your practice? Once you have established some basic business goals, along with established procedures to track your results, the social media puzzle will begin to take shape for you. One cautionary tale – some of the attendees at the 2019 MSS meeting have tens or even hundreds of thousands of followers. We must resist the temptation of comparative living. Meaning, obsessing over the few practitioners who have solved the puzzle might lead to frustration and disappointment. You have to start somewhere and create realistic expectations along the way. Here's what I know for sure: Everyone had to start with one follower and grow their universe from there.
Three – and this is the big one – you can drive all the traffic in the world to your practice from Google, social media, email marketing, billboards or wherever, but that alone will not result in sustainable growth. One of the themes that kept emerging was the frustration associated with low conversion rates from these established mediums. The question that needs to be asked is, why do some med spas flourish in the area of conversion while others remain stuck on first base year after year?
The answer lies in leadership, priorities, people, process and tools. Let's start with leadership, as it sets the tone for everything else that follows. Leaders must be principle-based. In other words, what do you and the practice stand for? What principles set you apart from everyone else? Leaders must have a plan and commitment to specific goals and strategies to hit those goals for 2019. As the old saying goes, you stand for something or you stand for nothing. What do you stand for?
Your conversion rate is always heavily influenced by your people. Typically, the team should mirror the principles and values set by the leader. Are your people committed to providing a consistent, world-class patient experience each and every time someone visits the facility? Are they enthusiastic? Do they take ownership and accountability for their part in the practice? Most importantly, are you listening to phone calls and training and practicing TOGETHER? Could your people sit down right now and write a similar 30-second corporate commercial that clearly defines your unique selling proposition? I hope so. If not, the marketplace and your competition will define you!
In terms of process, have you sat down to create a sales and marketing blueprint that includes: phone scripts, FAQs, most common objections, price responses, staff credentials, consultation best practices, etc.? From my experience, if you don't develop this process in painstaking detail, your team will be left to make it up for themselves. And when that happens, the result is generally not consistent with the vision of the owners.
Lastly, does your team have the right tools to optimize the conversion funnel? This must include some way to capture, track and automate communication; nurture and convert opportunities into paying patients; and manage loyalty programs, specials promotions, social media, SEO, emails and beyond. Then, does your team have the right tools to continue the patient relationship to increase per patient revenue, and most importantly of all, RETAIN the patients? And if you have these tools, has your team been properly trained on how to use them? Or, as can often be the case, are your team members trying to brush their teeth with a hammer? Ouch! Painful and expensive.
At the end of the day, whether it's employing best practices, trying to effectively leverage social media or making the most out of your sales and marketing efforts, there has never been a better time to run a successful medical spa. My biggest takeaway was the positive state of the med spa industry and my belief that the biggest threat to sustained growth is an internal one, which is the non-compliance and lack of willingness to adhere to a uniform set of best practices surrounding the treatment, health and safety of the patient. At the end of the day, this is what we all want, and that is why the 2019 MSS attracted the greatest minds in the industry. Until next year, congratulations to AmSpa on the success of the 2019 MSS!
Visit www.crystalcleardm.com to discover why hundreds of medical spa owners just like you have chosen to implement their fully integrated software, marketing and consulting platform.
Related Tags