Back to Main Blog
Ultrasound in Aesthetics: Bringing Ultrasound into Your Medical Spa
Posted By Madilyn Moeller, Thursday, June 9, 2022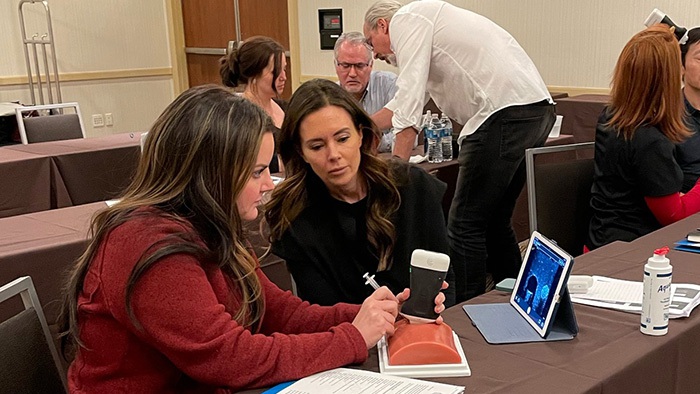 By Madilyn Moeller, Editorial Assistant, American Med Spa Association (AmSpa)

Innovation is expected in medical aesthetics, and that goes beyond the latest treatments and techniques. Ultrasound devices, for instance, are affordable, portable and fit for purpose, and their use in medical aesthetics is beginning to expand. For example, an emergency ruling by the Florida Board of Medicine, in effect for 90 days, aims to minimize the risk of Brazilian butt lifts by requiring plastic surgeons to use ultrasound to guide the fat injections.

Medical spas here and internationally are investing in patient safety during injections, microneedling, treating complications and more. Is it time to adopt ultrasound in your medical spa?

To learn more about what makes ultrasound essential for the injector, AmSpa Now spoke with two of the first aesthetic practitioners in America to adopt ultrasound, Dani J. Sher, PA-C, of Sparkle Aesthetics in Oak Park, Illinois, and Steven F. Weiner, MD, of The Aesthetic Clinique in Santa Rosa Beach, Florida, along with the innovators behind their personal ultrasound devices: Ohad Arazi, President, and Genèse Castonguay, VP Marketing, Clarius Mobile Health.

About Ultrasound Devices

The devices used in medical aesthetics are called ultrasound transducers. They convert electrical energy into mechanical energy and back by emitting a sound wave and detecting the echo. You can find linear, convex and phased array probes, which indicate the depth of their focus. High frequency (10 – 22 MHz) probes give a detailed image but are best for superficial scans. Aperture size—the device's footprint—also varies.

Many ultrasound devices use a Doppler system to map vascular structures and are called duplex ultrasound. This technology visualizes blood flow in red and blue, which you see thanks to high-frequency sound waves bouncing off red blood cells. This mode can show turbulent flow, which aids in identifying vessel obstruction in cases of vascular occlusion. It can also indicate how fast the blood is flowing with a change in pitch or a brighter color.

How do you know what you are looking at under ultrasound? Anatomy on the scan appears in shades from black to white based on echogenicity, or how well the sound wave is reflected: anechoic (black—fluid, water, abscess), hypoechoic (dark gray—muscle, glands, large nerves), isoechoic (light gray—fat, dermis, subcutaneous soft tissue), and hyperechoic (white—bone, teeth, ligaments or dense collagen).

Different fillers under ultrasound can have differing echogenicity because of their composition. Hyaluronic acid will first appear as anechoic deposits and, as its water content decreases, will range from hypoechoic to isoechoic. Ultrasound training can teach you to recognize the patterns and artifacts of various fillers. As providers will tell you, it's good to recognize even those you do not offer in your practice.

Why Ultrasound Is Made for Aesthetics

Practitioners in aesthetics understand the impracticality of the cart-based ultrasound for the needs of a medical spa. Thankfully, these devices have undergone innovation to expand into more specialized markets, and medical spa owners can select from corded and portable handheld scanners with the high definition and depth of field needed to visualize the small blood vessels of the face.

Clarius Mobile Health is one of the leading ultrasound device producers for aesthetics. Its founders first created a laptop-based ultrasound device before pushing the boundaries to make a handheld system that is supported by artificial intelligence, replacing the complex knobs and buttons seen in immobile cart-based systems. The L20 HD3 model is the first 20-megahertz scanner in a wireless form factor in the aesthetic field.

Ohad Arazi, president of Clarius, explains that the use of ultrasound in facial and medical aesthetics is all about improving patient safety, and cites the importance of visualizing facial and superficial anatomy in real time to safely guide procedures, avoid vascular conflict and confirm filler placement. His team innovated to overcome the cost and complexity of existing cart-based devices, creating a personal device that fits in the pocket of the provider and enables high-quality images, with software that enhances the view of the needle and artificial intelligence that streamlines workflows.

The company works closely with practitioners as it develops new technology. Aesthetics is one of 17 specialties in which Clarius works. The team developed a specialized Advanced Plastic Surgery Package to allow for customization and fine tuning for aesthetic providers. Arazi compared the devices to a chef's knife versus a Swiss army knife: They offer a tool specific to aesthetic needs, not one that's a fit for every use.

"We're extremely proud to just be active in this field, and we really felt that it was a hidden gem where so much value can be delivered both to the patients and to the practitioners," Arazi says. "It really was a matter of what's often called in the investment community 'product market fit.' There was such a specific need for a product that wasn't the high-end, extremely complicated and immobile cart-based ultrasound. If it could be something that was wireless that could be in the hands of the practitioner and personalized, that, I think, is really opening up far greater opportunities for clinicians to use this and to deliver much better care for their patients."

Interestingly, the private pay markets of aesthetics and veterinary medicine have more rapid adoption of these tools than fields that get reimbursed for using ultrasound.

"I think that facial aesthetic practitioners are quite compelled by ensuring the safety of their patients," says Genèse Castonguay, VP of marketing, Clarius. "I think, as well, it's a way that they can differentiate their practice. Practitioners that offer ultrasound certainly get repeat clients and word of mouth and really benefit from having the latest technology in their practice. The other thing is that it's relatively inexpensive. If you take a look at the equipment that is purchased in the aesthetic field today, they're quite expensive machines—$50,000 machines, $100,000 machines. And, so, to improve patient safety at the $5,000 mark is kind of a no-brainer for them."

Uses for Ultrasound in Aesthetics

The first thing practitioners learn is how to perform vascular mapping—that is, scanning the face to locate vessels and measure their depth. The device may have artificial intelligence that can automatically measure the depth of the vessel; if not, you can check it manually with a caliper. Facial mapping is critical to inform injectors whether they will need to inject superficial or deep to the vessel once they know its location.

Aesthetic ultrasound devices use software that detects the vascularity, allowing practitioners to visualize where the blood is flowing, view an accurate depiction of an artery or vessel, and see by the color where the blood is flowing in or out. This color can help practitioners confirm the location of a vascular occlusion when both blue and red are present.

Once you know where to inject, you can insert your instrument and use the ultrasound to check that the tip is where you intended for it to go. When you perform the injection, you can confirm the placement of the filler with the ultrasound.

Resolving filler complications is a crucial and especially beneficial use of ultrasound. Under ultrasound, the injector can identify the offending hyaluronic acid filler and watch their needle enter the nodule, then inject hyaluronidase and see the filler dissolve.

Ultrasound can also be used to measure dermal thickness, which has multiple applications. Measuring dermal thickness prior to performing microneedling allows the practitioner to set the instrument at the correct depth. This is also useful to measure the thickness of the fat before and after injecting deoxycholic acid or using a body contouring treatment. Additionally, ultrasound can measure skin thickness to demonstrate a difference after injecting a collagen stimulating filler.

The Aesthetic Provider's Perspective

Aesthetic practitioner and ultrasound trainer Dani J. Sher, PA-C, of Sparkle Aesthetics first began using ultrasound in emergency medicine 11 years ago. When she began injecting, she chose to use ultrasound to promote patient safety.

"When I started doing injections, around four years ago or so, I couldn't wrap my ER brain around some of the risks associated with filler injections," Sher says. "How can I be doing something like this when it's so uncertain where I'm going with this product? I really wasn't comfortable with those risks. So, I started doing ultrasound way before it was a thing."

Sher says ultrasound helps you understand what is happening when a patient has a complication. It helps practitioners identify if the problem is swelling, filler, a blood vessel or a lesion. Having a very specific idea of what's under the skin is important.

"There's unparalleled value in knowing exactly where you're injecting a product that could cause blindness," Sher says. "So, I think it's really important to have a very specific idea of what's under the skin."

After posting about ultrasound on Instagram, Sher connected with and began sharing notes with Steven F. Weiner, MD, who was using ultrasound at his aesthetic practice in Florida. The two now occasionally collaborate for trainings. Both providers use the Clarius L20 device.

Dr. Weiner, founder of The Aesthetic Clinique, was introduced to ultrasound for aesthetics by a friend who had traveled to attend a training with Leonie Schelke, MD, in Amsterdam; Weiner flew out to the next available class. During the complications clinic, he witnessed a case of a patient who had been injected with 3,000 units of hyaluronidase for a nasal occlusion with no relief. Under ultrasound guidance, Dr. Schelke found the area that was occluded and injected 125 units of the enzyme, which resulted in immediate improvement.

"From that point on, I said, 'Ultrasound is huge, it's going to be the future of aesthetic medicine, and I want to be at the forefront of bringing that to the United States,'" Weiner says.

He gradually started using ultrasound in his office and on his patients. When COVID-19 hit and he was forced to stay home, he practiced extensively and improved his skills. Dr. Weiner did webinars and lectures with Galderma and Chris Surek, DO, FACS, with anatomy and the correlation with ultrasound, and when events began running again, he started Sonosthetics ultrasound trainings and has trained over 250 people.

Weiner says ultrasound allows you to see the anatomy of the person who is actually in your chair. Even if you are adept at textbook anatomy, anatomy is inherently variable, particularly vascular anatomy. In certain areas of the face, seeing the vascularity is especially valuable.

"We have to evaluate that in patients before we're injecting in areas of high risk or at risk of vascular occlusion," Weiner says. "I highly recommend evaluating areas such as the temple, the deep pyriform space, the chin and the nose before injecting down onto the bone with a needle, because sometimes the arteries run along the bone in those particular areas, in the exact area where you want to inject."

Fortunately, ultrasound allows for efficient and effective treatment of vascular occlusions. The technology also allows you to view non-emergent, non-vascular complications, including swelling and nodules such as malar edema or delayed onset nodules. Under guidance, you can penetrate the wall of a nodule and effectively clear these.

Experience of Ultrasound Trainers

Sher and Dr. Weiner are two of the first practitioners in the U.S. to adopt ultrasound for aesthetics, and they are both established trainers, bringing their knowledge to providers around the country.

Sher has always had a passion for teaching and finding fun ways to learn that stay with students. She first taught a group of injector friends in Chicago and has now been teaching for a year and a half, tweaking her course over time.

"I've made a lot of changes since I started, but now I feel really proud of what I'm giving people in terms of their experience, and I get a lot of great feedback from the courses," says Sher. "It makes me happy as long as people leave and they have a sense of confidence that they can do it."

Dr. Weiner similarly adds to his course when interesting cases pop up in his clinic or he sees something unusual in his travels. He often brings his portable ultrasound along to injection trainings, so he gets to see different fillers than he uses in his office and view the variation among all the fillers.

He has encountered patients who thought they had one type of filler, but ultrasound revealed a different filler, which explained why the dissolving agent was ineffective. As faculty for the Academy for Injection Anatomy, Dr. Weiner sees anatomical variation firsthand. With ultrasound, he has identified similar cases in his practice, such as patients whose angular artery in the pyriform runs along the periosteum or who have an artery superficial to the orbicularis oris muscle. Patients come from other clinics with occlusions after having been injected with what should have been safe techniques—for textbook anatomy.

Bringing Ultrasound into Your Medical Spa

To learn to use ultrasound in your medical spa, you will need to invest time in ultrasound training. Clarius and other manufacturers offer basic training and resources but working hands-on with an aesthetic practitioner will guide you to safer injections and better results. Both Sher and Dr. Weiner pay it forward by training other aesthetic practitioners, and they highly recommend attending in-person ultrasound training courses specific to aesthetics.

"I think you absolutely need a full day of training with somebody who's experienced in training for aesthetics," Sher says. "And then, I think you've just got to keep doing it. You have to incorporate it into your practice on a daily basis, even if it's just quick taking a look at somebody's face and trying to learn something new on ultrasound, because there's plenty to discover in the face on ultrasound, but you have to have a desire to look for things and try. I think it is a steep learning curve."

Sher has trained people who have just bought their device and don't know how to turn it on. Dr. Weiner trains brand new injectors who recognize that starting injections with ultrasound is going to make them better and safer, as well as people who have been in the industry for a while and want to be on top of their game and at the forefront of the safety push.

"After my course, which is a day's worth of training, you will be able to use the ultrasound in your office to be proficient," Weiner says. "It takes several weeks or months, even, of using it on a very regular basis. It takes a lot of practice. Heck, I'm still learning all the idiosyncrasies. So, it's not easy to be an expert, but it's fairly easy to be able to use unidentified structures from the onset."

Dr. Weiner is holding his CME-approved Ultrasound Fundamentals for the Aesthetic Injector course alongside AmSpa's forthcoming 2022 Medical Spa & Aesthetic Boot Camps in New York, San Francisco, Houston and Miami. Sign up for aesthetic ultrasound training for comprehensive learning and hands-on experience that will guide you to safer injections and better results. Click here for more information and to register for the course.
Sher hosts her full-day accredited Ultrasound for Aesthetics training course at Sparkle Aesthetics Training Center in Oak Park, IL. Training focuses on ultrasound basics, practical applications and minimizing complications. Visit the Sparkle Aesthetics website to register for an upcoming course.
Ultrasound Is the Gold Standard in Aesthetics

Sher compares the adoption of ultrasound in aesthetics to its use in emergency medicine.

"Ultrasound came into the ER and there were people who were like, 'I'm gonna do things the way I do things. I don't need ultrasound,' and they stuck to their ways," she says. "And then, those who wanted to learn stuff on ultrasound did. Now, you look kind of antiquated if you don't know how to use that stuff. It used to be a thing that was new and modern, and people kind of turned their nose up at it. It's the same kind of thing that's happening in aesthetics. I think in 10 years it's going to look bad if every injector doesn't know how to use ultrasound."

Dr. Weiner notes that in Europe, practitioners are embracing ultrasound much more than in the United States. He believes ultrasound will make people better and safer injectors, and that their patients will appreciate the technology as an improvement for their safety. This concern over safety is paramount to loyal clients, so it will pay off in dividends.

"I highly recommend that anyone who is injecting be trained on ultrasound," Weiner says. "I think it will become the gold standard in the future. If you aren't injecting and there is a complication, that that will come under question, I believe. There are naysayers who say, 'Look, I've been injecting for a year.' They haven't had many problems, but why not have more information and be able to treat more safely and treat complications more efficiently and effectively?"

AmSpa is happy to partner with Dr. Weiner and Sonosthetics to bring his ultrasound training to select AmSpa events across the country. Learn more about Dr. Weiner's Ultrasound Fundamentals for the Aesthetic Injector course, including dates and locations, at its page on our website.
Related Tags
Subscribe to Our Email List
Medical spa news, blogs and updates sent directly to your inbox.