Back to Main Blog
Member Spotlight: Confidence Is Beautiful
Posted By Madilyn Moeller, Tuesday, July 26, 2022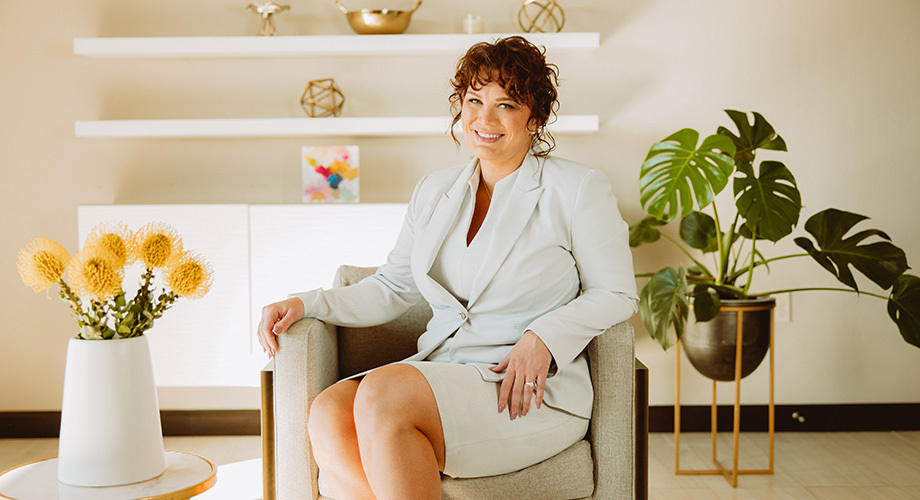 By Madilyn Moeller
Amanda Satterwhite, MD, knew from the time when she was very young that she wanted to go to medical school. She embarked on a quarter-million-dollar education, finished her emergency medicine residency in 2018 and, soon after, became an emergency room (ER) physician. Shortly after, however, the pandemic began. Sensing that it would be severe, she decided that she wanted to do something different with her friends, and, together, they founded Highwater Aesthetics & Confidence Co. in Edmond, Oklahoma, in 2021.

Amazingly, less than a year after co-founding and opening Highwater, she and her team are already expanding to a second location.

Putting It Together

Dr. Satterwhite was invested in medical aesthetics through her personal experience. She'd been getting neurotoxin and filler treatments during medical school and residency, and she had an injector she loved.

With an entrepreneurial spirit, she began planning her entrance into the industry while continuing to work at the ER. Her lifelong friend, Dawn Nauman, started working toward her master's degree in health care administration, and Satterwhite studied alongside her.

"They say you should never go into business with your friends, but I can tell you that the trust we have and the ability to rely on each other for decision-making made it fantastic," Satterwhite says. "So, it's not for everybody, but that motivated me to kick something off with them because I really enjoyed working with them and wanted to do it more permanently."

Late-night Googling led her to discover AmSpa's Medical Spa and Aesthetic Boot Camps. She joined as a member, absorbed the content from the online webinars and podcasts, and decided that if those are the same people at the Boot Camp, this was the right path.

She attended the Boston Boot Camp in June 2021.

"That Boot Camp made so much of it click for me," says Satterwhite. "It really put together everything that we had learned in the master's program, but then also brought in all the niche things that you don't necessarily know about medical aesthetics, and then, further than that, connected me with all the right people to be successful."

By the end of the Boot Camp, Dr. Satterwhite was confident that she would be a panelist within two years.

"Emergency doctors are nothing if not a little self-confident," Satterwhite acknowledges. "I come in in the middle of the night, and I might have to handle anything from catching a baby to dealing with a heart attack. It's made me pretty assured of what my skillset is. Once I started listening to the people at AmSpa talk, I thought, 'This is exactly the right space for me. This is exactly what I want to do. I know how to build this. I can see the future in it.'"

She said that the key to her success was knowing what she was getting into and how to make it work.

Enabling Success

By September 2021, Dr. Satterwhite and her injector, Kayla Hale, PA-C, co-founded Highwater Aesthetics & Confidence Co. Nauman works as the practice manager, while Hale is the workhorse, performing injectable treatments for her large patient base, and Dr. Satterwhite injects and runs back-office finances.

"It's like three branches of the government," says Satterwhite. "We can make almost any decision between the three of us."

Dr. Satterwhite attributes much of Highwater's success and quick expansion to Hale's patient base and the legwork the team put in prior to opening. Satterwhite and Nauman brought the finance and business background, which complemented Hale's vendor, product, injectables and social media knowledge. But Satterwhite says everything else has been a learning experience. Despite these obstacles, however, the practice has been a huge success, and Satterwhite says that much of this is due to its staff.

"I couldn't have gotten luckier with my staff," Satterwhite says. "They've been, hands down, the most amazing people. I'm super attached to them at this point. So, we're just going to have to grow old together, like me and Dawn. They're just part of the family now."

The Oklahoma Difference

The team plans to launch its second location, in Tulsa, in the next year. Dr. Satterwhite sees Highwater expanding further in Oklahoma, where many rural areas are underserved.

"The patient population in Oklahoma is small by comparison to L.A. or Chicago or any other place, and you definitely feel that," Satterwhite says. "So, I always joke, 'Everything's three degrees of separation.' There's no seven degrees of separation in Oklahoma. Any one of my patients who walks in the door, within about three degrees, we know the same people."

Satterwhite's team works with the philosophy, "Do the right thing for the patient and everything else will work out." Nobody is going to be swept under the rug.

"That's the key in Oklahoma," Satterwhite explains. "And maybe it's the key in other markets too, but definitely in Oklahoma, because there are such close-knit population groups that you get into, and you're going to know everybody and their family. That's the Oklahoma difference, in my mind."

At Highwater, the team empowers their patients to achieve self-confidence. They aren't so worried about what society thinks is beautiful. That's why it calls itself a confidence company.

"At the end of the day, it's their confidence that I worry about," says Satterwhite. "I try to express that to everybody. Beauty is subjective. The standards are going to change. What will make you confident? And I feel like that's kind of the philosophy we take forward."

Southern Mothers

Satterwhite says she had the luxury of having a fantastic injector from day one, so she wants everybody to have that experience.

Patient-centric care at Highwater begins with a consultation to develop the custom treatment plan. Importantly, the team roadmaps the process with the patient so they know what will happen at two weeks, one month, three months, etc. They use gallery photos of similar faces to show expected results. After treatment, the team does close follow-ups to continue the patient interaction and engagement on a personal level.

Dr. Satterwhite finds it refreshing to have patients who have elected to see her. The satisfaction of feeling like she really helps people feel more confident day to day has been the motivating factor for her to work every single day.

"They'll be like, 'My mom even commented'—mothers are kind of sometimes notoriously critical in the South—'my mom even complimented how good my skin looked!'" says Satterwhite. "And they were just glowing from that little social interaction. I feel like that confidence and empowerment is what our goal is."

Highwater patients are supportive of the business and the team's growth. Several patients have even offered business advice.

"My patients teach me things every day about running a business," says Satterwhite. "They're excited about it and about my growth personally. That's how I found my capital management group. I find these people who are excited about what I'm doing and want to teach me more and help me grow my business. It's been great to learn more about the entrepreneurial side and building a brand and building a business, even from my own patients, while sitting in my chair."

Continuing to Learn

Medical aesthetics changes every day. Dr. Satterwhite compares it to the ER of the 1970s when it was just becoming its own specialty.

"I feel like medical aesthetics is there now as more people enter the field and become more highly specialized in it," said Satterwhite. "It's an emergent specialty of medicine. The exciting part for me is being in on something that's changing so rapidly. There's just so much new in the market. There are so many things to learn. This kind of specialty will be a very quickly adapting and evolving kind of practice."

The Highwater team is constantly learning by attending conferences, seminars and trainings, not to mention watching videos and reading forums. Continuing education has given Satterwhite confidence in herself and the people she's supervising.

"For me, a key for CME is I don't lose any sleep," says Satterwhite. "I know what we're doing is appropriate. We're not going to cause any harm. And that soundness of mind is everything."

Dr. Satterwhite encourages others in medical aesthetics to learn about the business side.

"The injectables can come," says Satterwhite. "Not everybody has a talent for it, but you can learn it. The business part is the harder piece of it to really nail. It's what keeps your doors open. It's what allows you to do the other sides of it. So, sign up for AmSpa, learn about financing, do your master's of healthcare administration. Learn how money works, learn about how to run a business and learn who to work with."
AmSpa Members receive QP every quarter. Learn how to become a member and make your med spa the next aesthetic success story.
Related Tags