Back to Main Blog
How to Cash In on Social Media Followers
Posted By Mike Meyer, Monday, March 2, 2020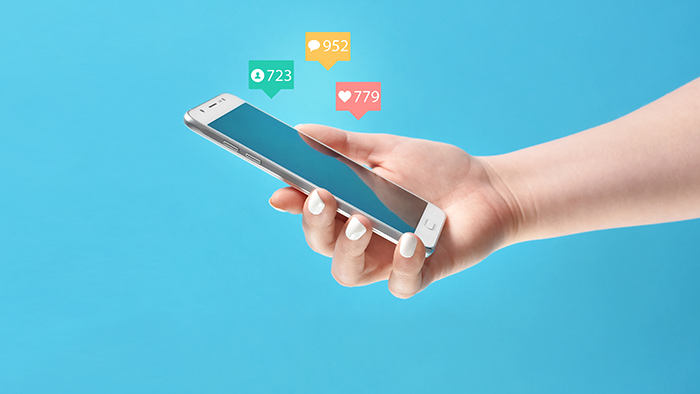 By Danielle Smith, NP-C, CEO, smith & co
Social media comes at us from every angle, and the pressure to keep up, especially in the aesthetics industry, is tremendous and growing every day. Fortunately and unfortunately, aesthetics is a very attractive field for photo-driven social media platforms. The content is captivating, the field is booming, and everyone wants to see beautiful people becoming more beautiful. With that comes the pressure for you and your practice to keep up. Are you already feeling stressed out and behind? Don't worry—you have more than you think.
The key to making money on social media is having a following that you can leverage for revenue. Luckily, medical spas fit that mold perfectly. You have a following—your patient base—that you can leverage for revenue by selling services and products. Furthermore, in aesthetics, you are positioned to capture repeat patients and recurring revenue. The patients who you have already seen are your most valuable assets, and you should invest in them as such. These are the patients who already have traveled through your marketing, called, visited with, and spent their money with you. They also can quickly become your next word-of-mouth marketers. Social media is a powerful tool that can close the gap that happens from the moment they leave your office until the moment they come back, while optimizing potential referral gain—whether they mean to or not.
Taking the tiny step of converting your real-life followers into your digital followers can transform your entire social media platform into a lean, mean, money-making machine. The most powerful ways to accomplish this are to:
Stay connected with your current patients;
Increase exposure and reach; and
Convert promotions into sales.
Staying Connected
In the ever-expanding aesthetic industry, it is becoming increasingly difficult to retain your patients. Staying connected to your patients without soliciting them is key. Think back to a time before social media—what did that look like? You had to have your kids in the same school, be in the same social circles, join the same committees and charities, go to networking events, and maintain an exhaustive social calendar. Now, you can just log on to social media to show people some love and achieve the same effect. It keeps you present in mind and relevant without being pushy or invasive.
Increasing Exposure and Reach
Now that you have connected with Sally—one of your patients who is a huge fan—you can engage with her and stay present in her social media world on regular basis. At this point, a beautiful thing called an algorithm starts to take over.
Social media wants to be as useful as possible and push content to the user in the most efficient way possible, sometimes even before the user realizes they're looking for it. Say that one of Sally's Instagram friends, Lisa, is looking for a new medical aesthetic practice and has visited some pages—Instagram will start to push your content and page to Lisa because of your association with Sally. Amazing, right? If this happened with one in 10 patients, your leads would increase by 10%. Let's take it a step farther—what if Lisa reached out to Sally and asked for her opinion of you? Your lead just became a conversion, and you still haven't really done anything. On top of that, now that Lisa is a patient and a follower, Instagram takes that as validating feedback and will continue to push your content in similar situations. Brilliant! Are you starting to feel better about social media?
Convert Promotions into Sales
So now that you have built your lean, mean, money-making machine full of your most loyal patients, followers, influencers and collaborative businesses, it's time to print money. Running a promotion or special is one of the easiest ways to convert followers into revenue. It is not something you should do constantly, but consider doing it from time to time. Posting specials on social media not only rewards your current followers, but also provides an opportunity for them to share it with their friends and other prospective new patients. It also provides you with content in which you can tag your influencers and collaborative businesses, allowing them to share it with their followers and reinforce your relevance to the algorithm. Whether your objective is to sell products or book appointments, always be efficient with directing leads to your intended target.
Making Your Mark
The beauty of this process is that, as you repeat these cycles, your following and patient base continue to grow. Your presence and validity on social media continue to increase, and you continue to cash out each cycle with larger and larger payouts. By using your current patient base, free social media channels and periodic specials, you can capitalize on the exponential growth and reach that only brilliant algorithms can offer.
AmSpa members receive QP every quarter. Click here to learn how to become a member and make your med spa the next aesthetic success story.
Danielle Smith, NP-C, is an aesthetic nurse practitioner based in Miami Beach, Florida. She is co-founder and CEO of smith & co, an injectables-only medical practice, and is currently the second-largest solo injector of Allergan products in Miami. Smith received her bachelor's degree in nursing science from the University of Miami, and her Master of Nursing Science, Family Nurse Practitioner degree from Georgetown University. She has become a serial entrepreneur and has launched several boutique injectables-only practices that focus on a low-overhead, high-patient-value business model. She also has developed a six-month mentorship injector training program called åcademy.
Related Tags
Subscribe to Our Email List
Medical spa news, blogs and updates sent directly to your inbox.