Back to Main Blog
Social Media and Micro-influencers
Posted By Mike Meyer, Friday, February 28, 2020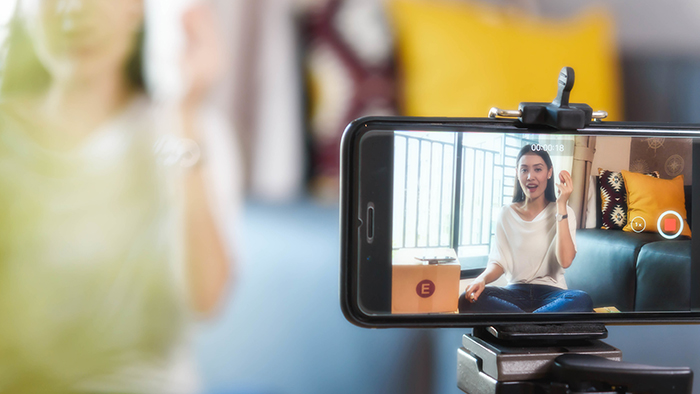 By Jenny Robinson, Skin Body Soul
Social media is an incredibly powerful tool for your medical spa. It has dramatically changed the way services are marketed and allowed connections to take place on a more organic and relevant level with the highly desired patients in your local community.
Evidence shows that social media—speciÔ¨Åcally Instagram—is being used as a source of knowledge by the people you're trying to attract to your medical spa. Future patients are deciding what to buy and where to buy based on the information they're getting from the people they follow on Instagram.
Working with micro-influencers in your community on Instagram and Facebook is an easy, cheap and effective way to reach these would-be patients. You can offer a free service to a micro-influencer and, in exchange, they will post about their experience at your medical spa, give glowing recommendations to their following and create useful digital content for your own future marketing purposes.

My medical spa, Skin Body Soul, markets through micro-influencers regularly, and we see five to 10 new patients with each new campaign. Whether you're new to the industry or looking for a fresh patient base, this is a low-cost and measurable form of digital marketing that will help your medical spa gain new traction.
What is a Micro-influencer?
Every community has a bevy of lifestyle, fashion, skin care or mom bloggers looking to promote themselves into local celebrities by ways of their growing Instagram following. These are micro-influencers.
Micro-inÔ¨Çuencers have engaged, local followings. Seek out the Instagrammers who have audiences matching your desired patient base. (Hint: Avoid bikini models—their audience is middle-aged men and teenage boys.)
Micro-influencers often share recommendations or reviews of products, services and local businesses with their following. Their followers see them as experts in their communities and use them to make their own purchasing decisions. This is the new-age word-of-mouth referral.
How Can I Take Advantage of This Opportunity?
Offer micro-influencers an opportunity to check out your medical spa via a free service. In return, ask that they post about their procedure to their Instagram feed and stories. They may also have a blog or YouTube channel they use to promote your practice. You'll be amazed by the amount of work they put into creating content for your business.
Think of this as an inexpensive television commercial. And it's even more effective, because its being broadcast directly to your target patient base. By getting the recommendation of a micro-influencer, you're securing the approval of a trusted local celebrity. Their audience is sure to follow suit and patronize your med spa.
How Do I Find Them?
Not skilled at Instagram? No problem. Someone on your staff is sure to know the basic ins and outs of the platform. Start by asking your staff or patients what local Instagrammers they follow for tips about beauty, health or skin care.
Next, on the Instagram Discover page, try searching the hashtag of your city's name followed by the word "blogger." For example, if you're located in Sacramento, California, you'd search #sacramentoblogger.
Once you have a few candidates, answer the following questions before reaching out to them.
Do they have between 1,000 and 10,000 followers? The number of followers can be found on an Instagrammer's profile in the top bar. The number of followers is less important than the hyper-localization of their following. People with fewer than 10,000 followers likely have a more localized following. When you find an Instagrammer with follower counts ranging from 40,000 to 100,000 or more, it's less likely that the campaign is going to make an impression on their following.
Do they actually live in your city or town? Check out their profile bio to see where they live. If they don't live nearby, they're not the right fit. Remember: You're looking for someone who lives right in your backyard because you're trying to attract their audience to your medical spa.
Are they a good fit for your brand? A quick scroll through their posted photos will give you an idea of the content this person usually posts. You're looking for someone who's audience matches your desired patient base. (And remember the warning about bikini models.)
Do they make frequent recommendations to their followers? This takes a bit of light stalking. Look at their photos and see if they're often posed with a product. Do most of their photos look like advertisements? If so, you'll want to skip this one and move on to the next micro-influencer. The Instagrammers who seldom make recommendations are taken more seriously by their following. Your campaign will receive more traction if you work with someone who is not frequently selling to their followers.
The best micro-influencers for medical spas tend to have roughly 3,000 Р5,000 followers. They have one or more children and describe themselves as "mommy bloggers." They often don't have a day job that takes them outside of the house.
Have a Contract
To protect yourself and your business, you must have a contract with the micro-influencer. Clearly outline the service you're offering and what exactly you are guaranteed in return. The contract should outline the time frame the influencer has to post, how many posts to make and what platforms to use. Be sure to include an anti-defamation clause and other important details you deem necessary. Consult your attorney if you are unsure how to create this contract.
Having a full understanding of the powers and pitfalls of social media is no longer an option for businesses. Working with micro-influencers will bring you new patients and greatly enhance your social media presence. With so few low-cost, high-conversion marketing options available, working with micro-influencers is a fresh take with potentially large rewards.
AmSpa members receive QP every quarter. Click here to learn how to become a member and make your med spa the next aesthetic success story.

A recovering medical sales rep turned entrepreneur, Jenny Robinson has worked in the medical aesthetic industry since 2011, owning and operating a multilocation, multistate medical spa company, Skin Body Soul. She is a former industry council board member for the American Society of Dermatologic Surgery, and is currently a board member of Inspire Midtown, a professional women's group in Sacramento, California. Her professional passion lies in marketing, and she believes strongly in the power of branding. Robinson is a Sacramento native who has traveled to more than 30 countries with her husband, Brandon, with whom she owns Skin Body Soul. The Robinsons also run a successful travel blog called Roaming Robinsons.
Related Tags
Subscribe to Our Email List
Medical spa news, blogs and updates sent directly to your inbox.