Back to Main Blog
Member Spotlight: Take a Ride on the Beauty Bus
Posted By Mike Meyer, Monday, February 24, 2020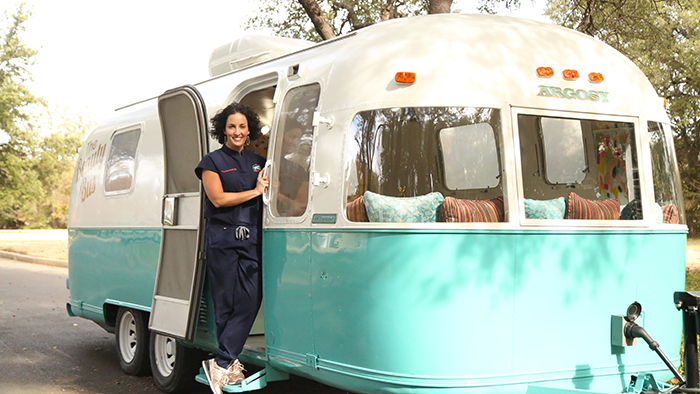 By Michael Meyer, Content Writer/Editor, American Med Spa Association
As any marketing professional can tell you, it helps to have a hook—and Sara Trammell, MD, of Abilene, Texas, has a worthy one.
Trammell spent several years working in family practice at a hospital in Abilene; she also spent some time consulting at a medical spa owned by the hospital, where her love of aesthetics originated. After the hospital shifted its medical spa to a plastic surgeon's office, Trammell decided to explore her own path in medical aesthetics.
"I started off by doing Botox parties, mainly because I had friends and coworkers asking if they could still come get their Botox," Trammell explains. "I did that by just literally packing up a little box, going to people's houses, getting groups of people together and doing Botox. Then they started asking for more and more services—'Are you going to start doing fillers? Can you get a laser? What are you going to do next?' So, I started looking into that."
Going Mobile
Trammell began to expand the services she offered, and also started investigating some ways to provide mobile aesthetics services around the Abilene area. What she found helped shape her practice's identity.
"I ran across an Airstream nail salon that was up in Canada," Trammell says. "I loved the concept and just the look of it. So, my husband and I started looking for an Airstream trailer in our area, and after several weeks of looking, we found one in Dallas."
Trammell bought the trailer, gutted it, redid the interior to include a treatment chair and cabinets, and decorated both the interior and exterior in a fun, kitschy retro style. With that, the Beauty Bus was born.
"I go to people's homes, I'e been to businesses and I'e been to different shopping centers that put together weekend pop-ups," she says. "There's a restaurant and shopping area outside of Abilene where we did a big event, and I offered Botox and consultations. I was able to get about 10 new regular patients just from that event. I think people like the mobile aspect of it, the fun aspect of it—it's a cute, eye-catching thing."
Trammell runs her primary aesthetics practice, which she opened in March 2019, out of her guest house. She does not have any employees, but she says her patients appreciate the individual attention they receive from her and are glad that she performs all procedures herself.
"Most people say how much they like the personalized care," she says. "They're not having to talk to anybody on the phone to schedule appointments—I do all of my appointments through Square, so they can schedule their appointments 24 hours a day and manage it on their own. I think I'e been able to take my experience at the hospital, where the medical spa was run in a very large, corporate setting where there were lots of restrictions and rules and regulations, and make it super personal and make it fit my lifestyle."
Membership Has Its Privileges
Trammell joined the American Med Spa Association (AmSpa) while she was setting up her practice, and she's used the knowledge available to her through her membership to help her practice get on its feet.
"It was one of the first groups that I joined, and it has really been a life-saver," Trammell says. "It's really been a positive experience—the legal and business aspects of the industry were things that I knew nothing about."
Trammell says that she has watched all the webinars and listened to all the podcasts produced and hosted by AmSpa and, in September 2019, she attended AmSpa's Dallas Medical Spa & Aesthetic Boot Camp, where she learned even more about how to operate a successful medical spa.
"I just started adding some retail to my shelves, and I learned that actually from the Boot Camp, when Bryan Durocher said, 'You need to have retail—you need so much retail,'" Trammell explains. "I literally got on my phone and started ordering retail that day. I'e put it up since then and it's done really well."
Growing the Brand
Now that her practice is up and running, Trammell is considering her next steps. She has installed a permanent parking space for the Airstream, complete with hookups for electricity and air conditioning, and she intends to use it as a second room at her home practice when it's not being used as a mobile medical spa. She's also considering hiring someone to administer treatments with which she is not currently familiar, such as body contouring.
Regardless of what she does next, however, it's safe to say that Trammell has found her calling in medical aesthetics.
"I want people to be confident in who they are," she says. "Your appearance is not the most important thing, that is true, but I think when people are confident in their appearance, then it allows them to be confident in all areas and aspects of their lives. I'm not trying to change your looks—I just want to make you a more confident person so you can go out and share that confidence with everybody else that you come in contact with."
AmSpa members receive QP every quarter. Click here to learn how to become a member and make your med spa the next aesthetic success story.
Related Tags