Back to Main Blog
QP Extra: Q&A with Eliza Parker, MD, of Cadella Aesthetics and Wellness Center
Posted By Kate Harper, Friday, August 2, 2019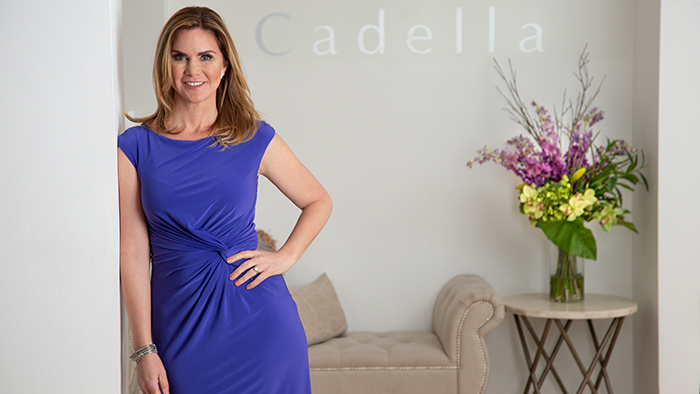 At Cadella Aesthetics and Wellness Center in Chicago, a medical aesthetic treatment is just part an overall experience that's designed to help patients not only look better, but also feel better. Practice owner Eliza Parker, MD, recently spoke with AmSpa Content Writer/Editor Michael Meyer about how Cadella came to be and how its customer service helps sets it apart.
Michael Meyer: What inspired you to open your practice?
Eliza Parker: I really love what I do. So there are a couple things. One, I love the artistic part of aesthetics. It's just so much fun to restore and rejuvenate how people look and feel. I think also, coming from intensive medicine, I love the wellness side of the approach. You're seeing people and you're making them feel good, and they're coming from a healthy place. It was a really nice change. And also, I just love people, and if you like people, this may be one of the best industries to be in, because throughout the day, you meet so many people from different walks of life who are doing different things. It never, ever gets boring. It's so fun.
MM: What would you say is different about your practice now versus when you opened it?
EP: It's really evolved and developed and grown on all fronts. When you first start, you have a vision—I can keep this so simple, and I'm not going to have to do X, Y, and Z. And then you learn that you have to do X, Y, and Z, and it gets more complicated, but it also gets richer. Experience changes everything—not only with patients, but also with the business and with how you outreach, with how you manage goals and all these various parts of it. And the more people you meet and talk to any industry, the more you see things that you do and don't want to do—I think there are as many don'ts as there are dos. You think, "I don't think that's the way I want to go," but you have to try. I feel like as you try different things, the business grows really fast. When I first started, I kept it very simple. I had a very straight idea of how I wanted to grow. Now it is at the place where I have this very mature, experienced staff. I have a very well-established business model, and it makes it so when we add something new, we have all this infrastructure to grow with. I think it's just very solid. It's awesome.
MM: What is your most popular treatment?
EP: It's definitely my liquid facelift. If you just walk into a med spa off the street, you won't be able to get those kinds of long-lasting results. But to actually get a nonsurgical liquid facelift, it changes people's whole perspective of themselves. For me, it's just so much fun because I can take pictures of how they looked 20 or 30 years ago, and we can restore that. They're always so amazed that you can recreate what they were and keep that moving forward, and it definitely brings in the most revenue for sure. I think fillers are an amazing way to make transformational change, and the time it takes to do them is less exhaustive than some of the other procedures.
MM: What would you say is the most important factor to your success?
EP: Loving what I do and finding staff who love what they do. I have had all of the ups and downs, but when you get people in different positions in your business who truly love to come into work every day, it just naturally grows exponentially. That's, I think, why it's gone in such a positive direction. We have a mission statement—we go through it every team meeting, we all are on the same page and I don't feel like everyone has different goals. We all are working with each other for the same goal, so it works well.
MM: What makes your medical spa different from others?
EP: It's hard to say, because I don't personally go to a lot of other medical spas, but what I hear from my patients is that they feel like they're really well taken care of. We tend to really try to find out what the patient wants and needs. What is going to make their experience better? It may have to do with us changing their parking position, or it may mean we have to help them get to their next appointment and call ahead. How can we make their day better? We actively try to look at how we can improve not just their Botox experience, but also their life. We truly do care, and I think it comes across, and I think patients feel that way. It's very intimate, and we know everybody. Even though we are very big, we really work hard at making everything very personal.
MM: Who inspires you?
EP: I'm constantly reading books, and I get them from different people who I'm working with, or one book leads to the next. I think being well informed is always key, but I would have to say the thing that really keeps propelling me is my patients. There's so much information you get every day from every encounter that propels this business, and it is inspirational. You meet people and hear their different stories, and if you really analyze every single one, it can also make you crazy, because if you have a lot of bad experiences you may not feel inspired. But at least for me, most of the time I find my patients extremely inspiring.
It's also my kids. I created this business and used their names—Cadella is a combination of my daughters' names—and I know this whole business was forged with them in mind; that always inspires me. And working with people who I enjoy working with inspires me. I think it's definitely a lot of factors.
MM: What do you love most about aesthetics?
EP: A couple things. One, the field is growing daily, so it's very, very fun. There's so much innovation. It's not stagnant or boring. Every couple of months, somebody's got some new product, some new device or some new way of trying to improve the aging process, so it's never boring. I think that every single person you treat reacts or responds slightly differently, so you're applying new algorithms for each person, so it's not boring. Also, you're making people really happy. What's not to love about that?
MM: What do you love about being an entrepreneur?
EP: It's the best, because you come up with ideas and then you try them out, and you constantly are going for it. When I started, I was so frightened because there are so many big financial risks you take in this field. It's kind of hard to believe that I did it. But you take these financial risks, and then you don't think that failure is an option, and then it doesn't become an option and you just make it work. I think that once you've learned that you can do that, you start applying it to all parts of your life. I think that's one of the best parts, for sure. I love it.
MM: What was your goal with the interior design that you chose?
EP: It's just my taste. I love it. I wanted to make it very relaxed and refined for my patients, so when they come here, they feel like it's private and they can feel safe. I also wanted to make sure they feel that they are not stuck in some random waiting room. I wanted them to feel fairly relaxed, like this is a place that they're welcome to come any time. I wanted to make them feel like it was more than just a medical office—it's a very safe space and a really pleasant space to be in.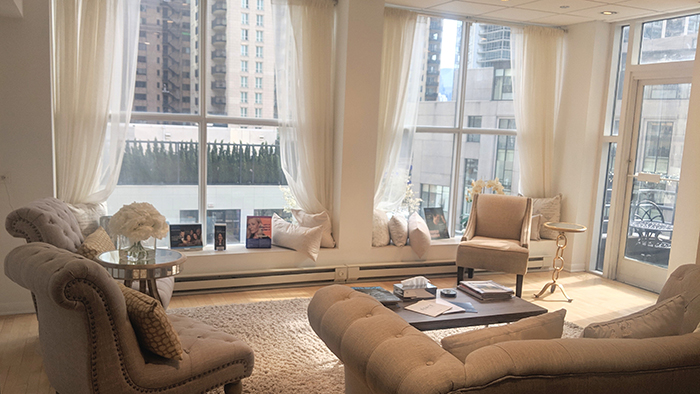 MM: What advice would you give to other med spa owners?
EP: If you think it's a get-rich-quick scheme, you are wrong. It is not. You can do very well financially, but it costs a lot. Your motivations for doing it have to be aligned with loving it. If you're doing it because you want to make a lot of money, I just don't think that's a great approach and I haven't seen people who have that attitude do very well. I've seen a lot of people fail at this business and I've seen a lot of people succeed, but I've seen more failures than success. So I think you should know, right from the get-go, that this is not a cookie-cutter, easy business to jump into. The patients, the consumers, are extremely savvy. They have a lot of choices. You have to be really good at what you do if you want to be successful, and it's going to take as much time as any other profession to get good at it. It's not easy to find an injector and make a ton of money off Botox—you have to find an amazing injector, and then, over time, you will make money.
Also, talk to colleagues—it needs to happen so much more than it does. I've had the privilege of being in a group of medical spa owners—we meet and talk about our failures and our successes, and it really expedites growth. I think people tend to stay quiet and think that they are coming up with the only solution, and they don't want to share because they want to be the only one to have it. I think that's a really sad approach. I feel like if we're all talking together, everyone moves faster, and patients are going to choose who they want, no matter what you do in your business. There are enough patients for everybody. There's plenty of business out there. It would be so nice if people were more open.
AmSpa members receive QP every quarter. Click here to learn how to become a member and make your med spa the next aesthetic success story.
Related Tags