Back to Main Blog
The American Med Spa Association Launches Multi-state Executive Legal Guides
Posted By Madilyn Moeller, Thursday, June 29, 2023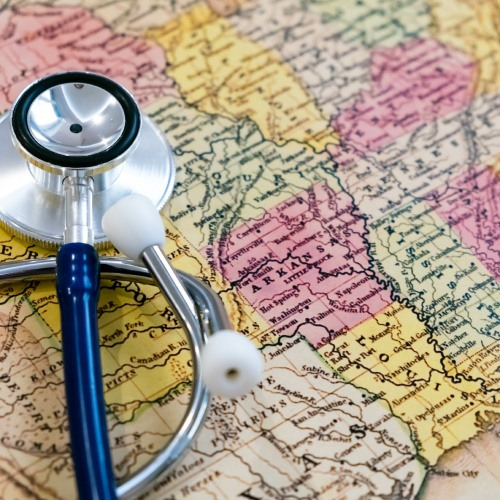 The American Medical Spa Association (AmSpa) has introduced its Multi-state Executive Legal Guides, a new resource designed to provide medical spa owners with practices in multiple states, and those who aspire to own practices in multiple states, with the most up-to-date information about the current legal landscape, as well as the unique legal issues they will encounter, in each state in which they operate.
Medical aesthetics is one of the fastest growing industries in the United States and, as successful medical spa owners continue to scale their businesses, they will no doubt encounter inconsistencies regarding the laws governing the industry from state to state. AmSpa's Multi-state Executive Legal Guides are designed to help navigate these tricky waters with easy-to-understand and simple to consume information compiled by the association's legal experts.
"We are very excited to launch AmSpa's Multi-state Legal Guides, a new product that has been years in the making," says AmSpa CEO, Alex Thiersch, JD. "This product is designed to provide high-level but focused information for owners, investors and industry representatives who need information on medical spa compliance across several states. We worked hard to provide easy and understandable access to the information you need to know to operate legally—who can perform treatments, ownership rules, legislation and regulation, and state-specific risk assessments. This tool is designed to give providers quick access to the basic information they need to operate legally in each state."
Each Legal Guide includes three sections. First, the threat assessment provides a brief look at the relative restrictiveness of the state's laws governing the medical aesthetics industry. Then, the compliance overview covers the state's regulations regarding issues including ownership, supervision and delegation, scope of practice and more. Finally, the treatment delegation brief provides a look at whether and under what conditions practitioners are allowed to perform a wide variety of popular medical spa treatments. The legal guides are living documents that will be updated whenever new rules and regulations are enacted, and those who subscribe to the legal guides will also receive alerts when bills have been introduced or passed in the states in which they are subscribed.
"This product provides an easy-to-use solution for franchises, chains and other medical spas looking to expand into different states," says AmSpa COO, Cathy Christensen. "Our hope is that with these simple guides, more medical spas will be able to operate safely and compliantly throughout the United States."

The Multi-state Executive Legal Guides are available in three configurations: A single-state subscription, a regional subscription (Northeast, South, Midwest or West) and a national subscription. They do not require an AmSpa Membership to purchase.
"The Multi-state Executive Legal Guides represent the next iteration of this growing and exciting industry, and it's only the beginning," says Thiersch.
For more information about the Multi-state Executive Legal Guides, visit www.americanmedspa.org/med-spa-legal-guides. This webpage features pricing and additional information on what is included in each subscription.
Related Tags
Subscribe to Our Email List
Medical spa news, blogs and updates sent directly to your inbox.