Back to Main Blog
The Way to Whole-body Wellness
Posted By Madilyn Moeller, Thursday, April 13, 2023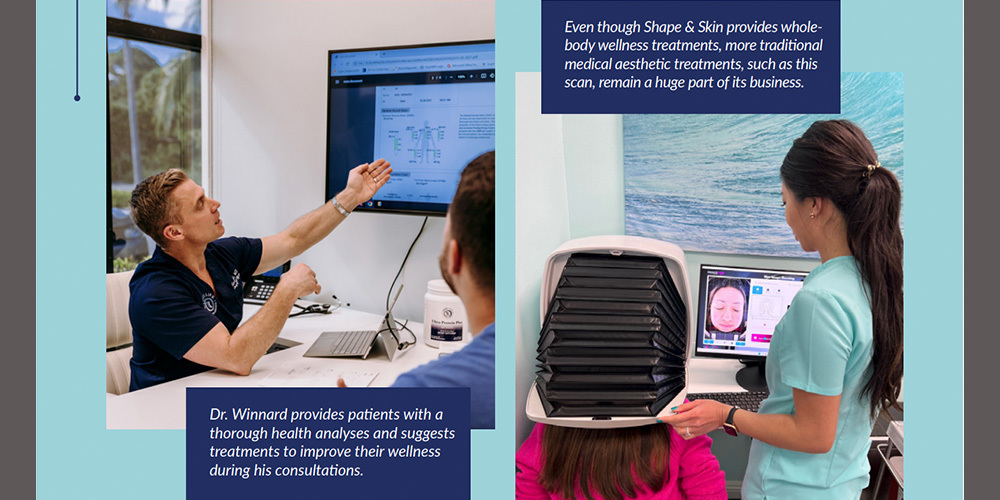 By Michael Meyer
When people think of medical aesthetics, they tend to think of treatment modalities such as neurotoxins, fillers, lasers, microneedling, cryolipolysis and more. But, for an increasing number of practitioners, it is just as important that patients feel good as look good, and their approaches to whole-body wellness, applied in conjunction with more traditional aesthetic treatments, are helping patients become healthier and happier while also achieving long-lasting results that can be life-altering.
On the Inside
For most of its existence, medical aesthetics has been viewed as the domain of plastic surgeons, facial plastic surgeons, dermatologists and oculoplastic surgeons—the so-called "core doctors." However, as the industry has expanded and diversified over the past decade, so have the practitioners who are determining its direction. According to AmSpa's 2022 Medical Spa State of the Industry Report, core doctors currently account for only about 20% of single-owner medical spas in the U.S.; family/general practice doctors lead the way with 26%, and emergency medicine specialists follow with 10%.
One of the expanding specialties for aesthetic practitioners is internal medicine, which registered 7% of single-owner medical spas in the 2022 Medical Spa State of the Industry Report after logging 4% in the 2019 version of the same survey. In the world of medical aesthetics, internal medicine specialists are among those revolutionizing the way practices view whole-body wellness.
"I was trained in internal medicine, traditionally hospital medicine, and then ICU care. But I found that in the hospital, I felt like I was unable to help people regain their health," says Ken Winnard, MD, chief medical officer and CEO of OneLife Health & Performance in Palm Beach Gardens, Florida. "It was a lot of folks who were already pretty sick. There wasn't a ton of opportunity there for education and to really make a change as far as helping people prevent disease."

Thanks to this experience, Winnard found that his true passion lies in helping people improve the way they live their lives, and he discovered the field of medical aesthetics provided a perfect opportunity to do that.
"The first clinic I opened was a teaching kitchen, training facility and medical clinic, all under one roof," Dr. Winnard says. "We were trying to cover all the bases where people fail to take care of themselves. I did some training with A4M [the American Academy of Anti-Aging Medicine], and then sought out learning at different clinics—shadowing and educating myself on anti-aging treatments. Then, eventually, I added aesthetics to compliment the health side because I felt like we were making people feel good on the inside, but I wanted to help on the outside, too."
Other practitioners have come to whole-body wellness from the opposite direction—they begin by providing traditional aesthetics treatments before realizing patients can benefit from a more holistic approach.
"With a lot of the patients I had, when they came in for toxin or fillers, I found that there are more complex parts of them that I feel like could be improved, too, because a lot of them come in saying, for example, 'I want to be more desirable for my husband. I want to feel wanted again.' So, anything that I did cosmetically, I didn't think that that was enough," says Vrinkley Pruna, MSN, NP, assistant clinical director at Shape & Skin Medical Spa & Weight Loss in Huntington Beach, California. "I wanted to explore more about what was causing them that—more focusing on what their life is like at home. What's their quality of sleep? What is their sex life like? What are their goals?"
Pruna, who practices at Shape & Skin with her mother, Veronica Pruna, MSN, NP, specializes in weight management, and she's seen an increase in demand for these services in the wake of the COVID-19 pandemic, when people developed poor self-care habits in response to lockdowns and uncertainty.
"Since the beginning of 2021, a lot of patients have been coming in because they gained 10, 15, 30 pounds from the pandemic due to not being able to cook as much, and the food resources were low, and everyone's at home so they didn't have time to exercise," Pruna says. "A lot of patients came in due to pandemic-related stress or weight gain or just feeling like they needed to do something for themselves. A lot of our business this year was COVID-related."
Demographics
Wellness treatments appeal to a wide variety of patients, from young people who are looking to optimize their health in the prime of their lives to older people who want to recapture the vitality of their earlier years.
"We see all kinds of folks," says Dr. Winnard. "We have parents who say, 'This has helped me tremendously to understand my health and learn to live a healthy lifestyle. I want my 16- or 17-year-old to have this knowledge so that they can go to college with it.' And it goes all the way up to folks who are in their sixties, seventies and eighties who may have chronic disease or may just want to remain healthy; they know that they can come here and learn how to take care of themselves. We also have folks who are referred by local physicians and cardiologists in the area, and other people who are suffering with chronic disease and have been unable to get it under control. We help with all those parts."
As the demand for aesthetic medicine grows, it's likely that the average age of patients seeking whole-body wellness treatments will decrease, since younger people are becoming more aware of the internal and external benefits of maintaining a healthy lifestyle.
"I think people are looking for these treatments at a younger age now, and I think it'll shift more from, like, 'turning back the clock' for patients to preventing them from aging faster," Pruna says. "I think that the demographics for these treatments could probably shift to more younger women in the coming years."
The more casual doctor/patient relationship in a medical aesthetic practice could also help to facilitate the sort of conversations that need to take place for the benefits of whole-body wellness to become clear to people.
"With our current sick care model in general medicine, the system isn't set up to allow for time for education—to take the time to really dig in to find out who that person is, get to know them well, and then be able to put together a plan that's specific to them," Dr. Winnard says. "A lot of aesthetic providers are doing that. They are taking the time to set up a good aesthetic plan. They have cash-based businesses that are allowing them to take the time they need with people to have a good outcome. I think there could be a huge opportunity here for us to fill that gap where general medicine isn't."
The benefits of taking the time to craft wellness plans for each individual patient has resulted in health benefits that transcend more traditional aesthetic treatments, although attracting people with filler injections and threading, for example, can be a key first step in these conversations.
"A lot of times, people don't even know that they could treat their high blood pressure just by adjusting their lifestyle and losing 10 or 15 pounds," Dr. Winnard says. "We have patients here in our clinic who are coming off their statins and their high blood pressure medication and their diabetes medication just by losing the weight and fixing some vitamin intake and eating proper nutrition and incorporating physical activity into their routines. These are things that we can easily educate our patients about, even while they're in the chair getting their aesthetic procedures done."
Patients are also becoming more educated on their own, but not every patient is suitable for the types of whole-body wellness treatments offered by aesthetics practices. Because of this, it is important for these practices to conduct a thorough evaluation for each patient and tailor their marketing efforts to a more select clientele.
"We try and market the outcome or symptoms more than particular medications because we don't want patients coming in being like, 'I saw this specific medication and you were saying it's going to make me lose 50 pounds,' and then we have to explain to them that they might not be a candidate for it and it might not be safe," says Tiffany Lewis, president at OneLife Health & Performance. "We're as safe as possible on the health side, erring more on the side of caution and talking about what we can help with instead of specific medications, because, of course, with medications, everyone's different."
Looking Ahead
As treatments such as hormone therapy and IV therapy become more commonplace in medical aesthetics settings and patients commit to more fundamental improvements to their health, the industry's focus may gradually begin to change.
"I sense there is going to be more of a shift from things that are immediate, like dermal fillers, and I think it's going to be more focused on functional health in aesthetics—things like improving sexual dysfunction or overall whole-body health," Pruna says. "That will result in the cosmetic things that we want to see, like fewer wrinkles, and provide a better quality of life, which will help with the whole body."
Helping patients achieve whole-body wellness isn't all about aesthetics, however—it's about providing them a better quality of life, especially as they age.
"Almost 70 to 80% of the population has some underlying insulin resistance, so it's important to emphasize metabolic health and help people understand nutrition and lifestyle and the importance of exercise and hydration and all those things," says Dr. Winnard. "If we go through our twenties, thirties and forties and ignore all that, that disease process pops up in your forties, fifties and sixties. If we take care of ourselves, those things are preventable. I think medical spas and aesthetics professionals have a platform to help educate people about how to be healthy, and I think a lot of them are already there. They're excited to take care of themselves, they're excited to look good, and you may be more likely to get that person to eat a little cleaner or participate in that physical activity—to do the things they need to do to live a healthier life."
AmSpa Members receive QP every quarter. Learn how to become a member and make your med spa the next aesthetic success story.
Related Tags
Subscribe to Our Email List
Medical spa news, blogs and updates sent directly to your inbox.